$100,000 Poker Tournament Qualifiers
$100,000 Poker Tournament Qualifiers
No-Limit poker game from 12am July 1, 2017 through 11:59pm August 31, 2017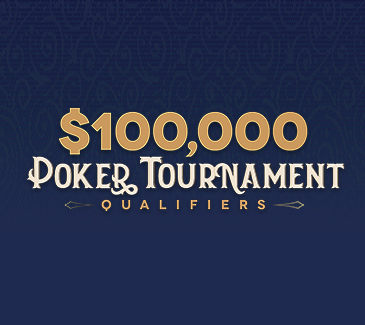 The top 60 players with the most hours played on a live jackpot eligible No-Limit poker game from 12am July 1, 2017 through 11:59pm August 31, 2017. Hours are tallied using our Bravo system. Each week we will update our board with the current top 60 players. Final Top 60 players will be posted in the Poker Room on September 1, 2017. Tournament will be held on September 10, 2017 at 10am in the Poker Room. All live games will be closed on September 10, 2017 at 9:30am and will resume when a poker table is available.
TOURNAMENT FORMAT:
Qualified players will swipe their 24k Select Club card in Bravo tournament Watch for a random seat and table in the Poker Room starting at 8:30am – 10am on September 10, 2017. All participants must be present to claim their seat into the tournament and/or prize. Participants may only earn one seat in the Tournament. Players will receive $10,000 in tournament chips at the beginning of the tournament. Tournament chips have no cash value and are collected at the end of the Tournament. All tournament chips must be broken down by color and must be visible to other players. Players may earn additional tournament chips based on their ranking among the top 60 players. Top 10 players will receive an additional $2,500 tournament chips. Players 11th through 20th will receive an additional $1,500 tournament chips. Players 21st through 30th will receive an additional $1,000 tournament chips. Each player shall report to his or her assigned table at least 10 minutes prior to the scheduled starting time. If a player is late for the start of the session, blinds will be taken from the late player. Player shall be disqualified if not present by the end of the first level. There will be no substitute due to a vacant seat during the tournament. Blind will start at $25-$50 and increase every 20 minutes. After every four (4) level all players will receive a 10 minutes break. All entries are non-transferrable. All decisions made by Golden Nugget Management are considered final. Disruptive participants may be ejected from the tournament at the discretion of Golden Nugget Management.
Join us in the poker room!
---