$100,000 Cadillac Giveaway
$100,000 Cadillac Giveaway
SATURDAY, SEPTEMBER 30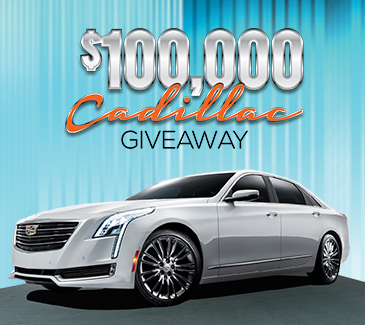 2017 Cadillac!
SATURDAY, SEPTEMBER 30
EARN ENTRIES | SEPTEMBER 4 – OCTOBER 1
Earn entries on your 24K Select Club Card beginning September 4 at 3:00AM – October 1 at 12:29AM.
Receive one entry for every 10 Tier Credits earned.
2017 CADILLAC GIVEAWAY
Activate your entries by swiping your 24K Select Club Card at any 24K Select Kiosk after 10:00PM.
At 12:30AM (next day), five winners are announced for a chance to win a share of $35,000 Free Slot Play or a new 2017 Cadillac!
Drawings will be held at the main entrance of the casino.
Must play using 24K Select Club Card.
---