Collective Soul
Saturday, February 17 | 8:00pm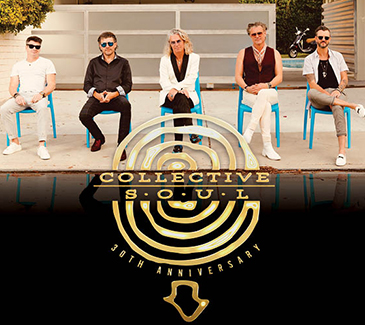 In the Grand Event Center
Hailing from Atlanta Georgia, Collective Soul is celebrating their 30th Anniversary! With 11 studio albums and 7 #1 Hits under their belt, frontman and chief songwriter Ed Roland is unwaveringly driven in his desire to double down on doing more of what he does best – making music, sweet music, both in the studio and onstage. Seeing eye to eye, and ear to ear, is part of the secret sauce of why Collective Soul continues to both record and play together at an uncompromised level of high quality. With electrifying newer material that accompanies the everlasting Collective Soul classic hits like "Shine," "December," "The World I Know," "Heavy," and "Where The River Flows," these five fiery rockers are only just getting started with the next phase of their thriving career that has moved millions of records and wow multitudes of fans across the globe.
Working in tandem, sharing unbridled opinions, and listening to what everyone else has to say without recrimination are all key proponents in fostering Collective Soul's perpetual harmony. "That's the forte of this band," Roland acknowledges. We discuss things together, we figure them out together, and we make sure to get everything right. That's how we love to do it. And I say this out of confidence, and not out of ego — we're really, really good at it, too." "People ask me if I have a hobby, but for me, it's just music," Roland confirms. "I mean, I don't know what else to do, because that's what I love to do. I live in the studio — but then the time comes when I go, 'Well, now I wanna go play live.' I just love the creation of music, and the process of finding out what's going to happen with it next. That defines it all for me."
"We're ready to go," declares Roland. "Most of us grew up together and knew each other as kids, so that helps with the live chemistry. I've always said this about this band — we know when to knock each other out, and we know when to hug each other. We won't put up with any crap, but if you're feeling down and need help, we'll pick you up. We're coming up on 30 years as a band, so we have to be friends first and foremost to keep it all going."
As 2024 unfurls, it's clear that heaven continues to shine its light down on Collective Soul, a formidable five-man band humming along in unison with many more good vibrations of their own to share with the masses far and wide. There's a reason Collective Soul is made for me and you, so be sure to see and hear them for yourself first-hand, the next time they make their presence known in your neck of the woods!
---
All guests must be 21 or older.
---