Las Vegas Poker Room
Just the place to hold 'em
The Golden Nugget is one of the most famous poker rooms in Las Vegas. "The Nugget" is seen by many as the spiritual home of legendary televised poker show High Stakes Poker — with its High Roller Suite being witness to some of the biggest and most dramatic pots in TV history. Several series of NBC's Poker After Dark also have been taped here, as well as head-to-head battles of Face the Ace on NBC, so players have a good chance of rubbing shoulders with big-name poker pros.
As the name suggests, the Golden Nugget Poker Room maintains the casino's gold rush theme. Our poker room hosts 13 smoke-free tables, comfortable seats and plush decor. Tables are fitted with golden felt and sit below spotlight lampshades that emit low levels of filtered, golden light. Deep, velvet-backed chairs are around the tables and allow you to sink back in great comfort when contemplating tough decisions. Flat-panel TVs are placed above each table and display tournament information at such close range so that even short-sighted players can stay on the pulse of the action. All tables are equipped with phone chargers as well.
Various levels of live cash poker games are always available from beginner low limits to No Limit action like you see on TV. We have a high hand bonus promotion for our cash games, where if you make quads or a straight flush using both cards in your hand you win a bonus of the posted amount. (Between $50 and $599) If you hit the high hand between 8am and 2pm it pays double! (Except the Royal Flush, which is never less than a $200 bonus.) We also feature a progressive Bad Beat Jackpot that pays out the entire table if somebody loses with Quad Deuces or better. The Bad Beat Jackpot starts at $10,000 and grows daily until it is hit and re-sets. Check the BRAVO app or call the Poker Room direct for an up-to-date Bad Beat Jackpot amount. As a 24K Select Member you will earn $2 an hour in comps while you play in our cash games. The comps can be used at any Golden Nugget Las Vegas restaurant, as well as any Landry's restaurant nationwide.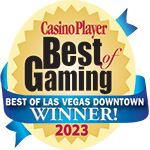 Best Poker Room
Best Poker Tournaments